Friday evening, The Huffington Post ran a story about a high school girl whose senior pic was deemed to racy for the yearbook pages. If you scroll down to the comments, you will read a myriad of opinions such as:
There's a pole in her future…

So, why do teachers molest???

Future stripper. Oops, I mean exotic dancer.

She has to pay for her coke habit. Oops, I mean college

what's wrong with the photo? She is just a beautiful young lady. And quite sexy.

But,…..b­ut…that photos shows HER BARE SHOULDER! That so called skirt SHOWS HER KNEE – her KNEE!!!!
And she's GAZING INTO THE CAMERA! Don't you get it?
(I don't either – I think you have to have daughters to be this upset)

TO ME, THIS PIC SAYS, "I'M THE SCHOOL SLUT"

I wonder if she has any intelligen­ce at all? In any case, it's too bad to see any human being succumb to being used by the dark side of society.
And they go on and on. Now, I know your thoughts: "CCM, WHY are you reading the comments? Don't you know that the comments are made by people hiding out on the Internet?" Yes, the comments are made by random people on the internet, but these people are giving an opinion on the picture.
Now, we won't get into how Senior Pictures have changed in the 14 years since I graduated from high school but we are going to talk about whether it is right that clothing can have such power over a person.
Did the picture violate school dress code? According to the article, yes. Were the students expected to adhere to school dress code within their school photos? I don't know. Does this picture reinforce the Virgin/Vixen dichotomy in our culture? Yes.
Like it or not, clothing is non-verbal communication. What you are wearing broadcasts an impression to the world. If you see a person wearing a dark uniform, carrying a badge and a side arm, and you can make the safe assumption that they are a police officer. If you see a person wearing a white uniform with a fluffy, cupcake shaped hat, you can make the assumption that they are a chef. If you see a person in fatigues, you can assume they are in the Military.
Doing a quick web search for "Dancer Senior Pics" gave me a few other shots to share: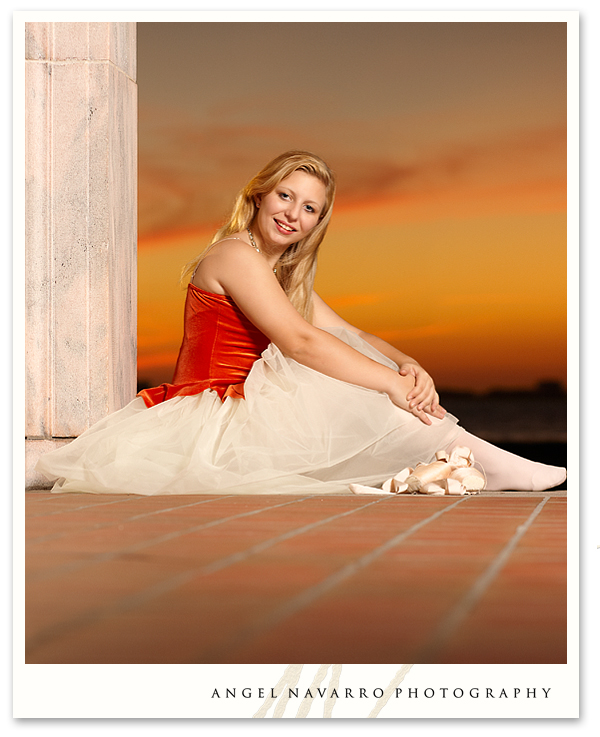 Let's compare these three to the original picture:
Young girl pictured? Yes.
Shoulder, Elbow and/or Knee exposed? Yes, yes, and yes.
Subject looking directly at the camera? Yes.
But tell me that your initial reaction to the three pictures above was the same as your initial reaction to the original picture. Most likely it was not. Most likely you are not thinking that pictures 2,3 and 4 look kind of trampy, whereas picture 1 does. Why do we have such reactions to visual stimuli?
Does picture 1 say "I am an aspiring model and dancer?" Or does it say, "If I were to be raped, you would all blame ME because I dressed like this?"
I was watching an episode of "Beyond Scared Straight" and one of the girls asked why they couldn't go into the mens' cell block. The response was that "the men would be lusting after you." Not that "It's dangerous in there." or "we would be held liable if you get hurt while under our care" but that because you are female, those men in there will not be able to control their animal instincts and will somehow get you.
So… where am I going with this??
It comes down to Slut-Shaming.
Slut-Shaming, a definition from Finally Feminism 101:
Slut-shaming, also known as slut-bashing, is the idea of shaming and/or attacking a woman or a girl for being sexual, having one or more sexual partners, acknowledging sexual feelings, and/or acting on sexual feelings. Furthermore, it's "about the implication that if a woman has sex that traditional society disapproves of, she should feel guilty and inferior" (Alon Levy, Slut Shaming). It is damaging not only to the girls and women targeted, but to women in general an society as a whole. It should be noted that slut-shaming can occur even if the term "slut" itself is not used.
I choose to dress modestly. I choose modest clothing for my girls. Why? I don't want to be labeled or categorized by the way I or my girls dress. I will not allow "Bratz" dolls or "Monster High" or the like in my house because I don't like the way that they look and I would rather my girls not want to emulate the dolls.


But in doing that, am I encouraging the practice of slut-shaming?
In the same vein, how will I, as a mother to girls, teach them to be safe, to protect themselves without them thinking that it's THEIR responsibility not get raped, even if they choose to not dress modestly? How will I reach them that they are NOT responsible for leading a man on or for being a "tease?"
"There was an article about an 11 year old girl who was gang-raped in Texas by 18 young men because she was dressed up like a 21 year old prostitute." – Kathleen Passidomo (R) Florida
(In 2011, the politician soon came out and said that the media twisted her words.)
From Canada, a statement involving a Judge (Dewar) speaking about the man accused of sexual assault (Rhodes):
Dewar called Rhodes a "clumsy Don Juan" and said "sex was in the air" on the night the sex assault occurred. He also noted that the victim and her girlfriend were wearing tube tops without bras, high heels and lots of makeup.

"This is a different case than one where there is no perceived invitation," said Dewar. "This is a case of misunderstood signals and inconsiderate behaviour."
Let's make this clear, no girl ever "deserves" or "asks" to be raped. As a society, we seem to be more condemning of stranger rape than we are of date rape. I don't know what we find it hard to swallow that every person is capable of evil at any given time, even the sweet All-American boy that your daughter is dating. And every boy is capable of it… take a look at the club, ladies, when's the last time you were at a club, or a wedding, or anything with mixed couples dancing (most likely pre-marriage) and some random guy came up to you and started grinding on you? Most likely you let him, or you tried to move away, only to have him follow, but how many of us actually would say to the guy, "No, thank you. I do not want to dance with you."? How do we teach our daughters to say NO, with confidence and to CLEARLY communicate their desires without making them think it's somehow their fault if something bad happens?
We begin teaching it now. Some of us are parents of strong willed children. Children who LOVE to say the word NO. Children whom we label contrary, or difficult or challenging. Right now, we relish in the thought of being able to extract that NO out of their vocabulary, to mold them in to obedient automatons but those are the teens and young adults we want our children to grow up to be. Ones who are confident enough in themselves to be able to look someone in the eye and say NO. Ones who know that wearing a bandeau top and micro mini might now be the best idea and certainly will broadcast a message about them, that that message might not be received as  "Hey, I am a person, someone's daughter, sister, mother, aunt, friend, and I was created in my Father's likeness!" That they will have to be very clear in their desires and intentions.
But it also means teaching our daughters that they are more than flesh and bone. That they are more than the clothes on their back. That they are more than just a pretty face. That beauty and figures fade, but character lasts a lifetime. Maybe it's in finding out why she wants to wear the bandeau and micro-mini… is she wearing that because society tells her that is what the most desirable women wear, and she wants to feel desirable and wanted? Does she feel the only way to be empowered is to control others with her sex? Is the making her dressing decisions for herself or is she dressing to please others? Is it possible for us, as a society, to take the power out of clothing?
The burden of responsibility does not just fall on the shoulders of our daughters. Keep an eye out next week for my take on raising sons.
(images from blog.zap2it.com, reddingcreativeportraits.com, angel navarro photography, and worley arts photography and Wikipedia)
Special Thanks to Jen for helping me work through some of these ideas.
______________________________________________________________
Thoughts, thoughts, what are your thoughts??
 Like me here? Like me there! Like me on FaceBook, Twitter, everywhere!